Minilog B, RDL10
Data Logger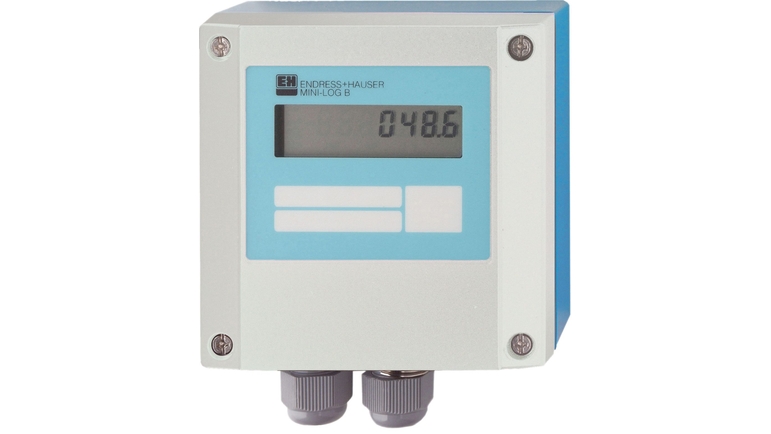 Colector de datos para la indicación y el almacenamiento de los valores medidos desde una entrada digital o analógica
Colector de datos para aplicaciones autónomas. El equipo Minilog B se usa para visualizar y registrar los datos medidos de una señal de entrada analógica y digital. Puede ser adecuado en aplicaciones donde se necesita un colector de datos compacto. Además de almacenar datos, el colector de datos también monitoriza dos puntos de ajuste. La infraccción de estos valores de configuración se visualiza en el indicador. Además, es posible transmitir un mensaje a una computadora o teléfono móvil usando la red telefónica o un módem inalámbrica (opción de Tele-alarma).
Ventajas

Conexiones de sensor mediante tecnología de 0/4 a 20 mA, 0 a 1 V o Pt100, así como contactos libres de tensión para impulsos de señal de evento o recuento

Registro de valor instantáneo o valor mínimo, máximo, medio

El almacenamiento de hasta 64.000...
Ámbito de aplicación

Almacenamiento de datos para valores de temperatura, humedad, presión, caudal, nivel y análisis

Monitorización de temperatura: almacenamiento de valores de temperatura y transmisión de valores de medición de temperatura

Registro de los tiempos operativos

...
Documentos / Manuales / Software
Accesorios / Piezas de repuesto
Housing cover cpl. neutral

Terminal P.C.B. with battery 3,6V/2,1Ah

Terminal PCB for ext. power supply 7-30VDC w/o battery

Terminal P.C.B w/o battery 3,6V/7,2Ah

CPU board 32KBit memory+tele-alarm soft

CPU board 128kBit memory+tele-alarm soft

Temperature sensor (with manual)

Battery lithium 3.6V 2,1Ah Size AA

up to unit no. 3W506999

Interface cable without software

Battery lithium 3.6V 2,1Ah Size AA

from unit no. 3W507000

Interface cable for Modem + adapter

Mounting bracket/pipe mounting/complete

Mounting bracket cpl. for wall mounting

Accessories Datamanager RXU10

Adapter set for connection of 2 Minilog to one modem incl. cable
22.10.2019 - 25.10.2019

Mediante las sesiones prácticas, aprenderá en detalle cómo funciona la tecnología de bus de campo PROFIBUS.

22.06.2020 - 26.06.2020

Con la ayuda de tareas prácticas reales, aprenderá con detalle cómo funciona la tecnología de bus de campo PROFIBUS. Al final del curso, será capaz de diseñar y poner en marcha una red de bus de campo PROFIBUS.